It's like a picture taken straight from the scene of a horror movie: You walk into your kitchen, and find the cabinets wide open. You look down. Two drawers are pulled out, like something was riffling through them looking for a spoon. You quickly shut them, trying not to think about that movie you just watched about ghosts and poltergeists who like to leave things open for the living to find.
If I Find The Cabinets Doors Left Open ONE MORE TIME…
You go about your business. An hour later you find yourself back in the kitchen. Three cabinets and a drawer are open. Your breath catches in your throat. You spin around, expecting to find a pale, wanting ghost standing behind you. Electricity sizzles it's way up your spine and into your hair. Did the temperature just drop five degrees?
Your heart skips a beat. You freeze in place for half a second. You start to wonder if there are other beings living in this house with you. You slowly look around. Then you remember: You're not the only one living in this house.
Surely the family isn't leaving cabinets and drawers open for you to find and close. You've only told them like a hundred times to follow through and complete what they are doing before moving on to the next thing. Only a bad parent who doesn't educate their kids, who doesn't stick to their guns when teaching the proper way of doing things, would come across such a scene. Only lazy kids and a lazy husband would leave the cabinets open, and not follow through after getting a plate and spoon to use…
Right?
I mean, MY family would never do such a thing…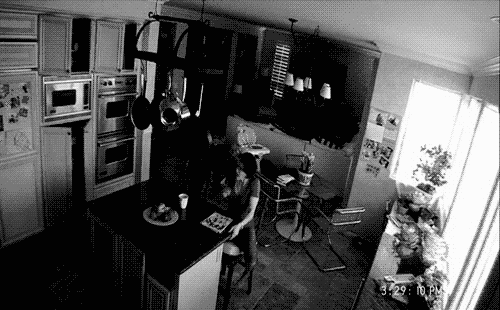 RIGHT!?!?!
Unfortunately, this is my family. Every time. It's not a poltergeist at all. It's two kids and a husband who leave things open and undone. To be more precise, it's MY kids and husband who leave things open and undone.
Are they lazy? No. Have they been taught that proper etiquette calls for completion of one task before moving on to the next? Yes. They just don't process chores like I do. They have minds that go a million miles an hour, and following through just isn't in the cards for them, heaven help me. I can tell them over and over to shut a cabinet. I can tell them repeatedly to shut a drawer. It simply isn't going to happen.
It's quite possible my perfectionism is showing through. Perhaps I need to rethink my assumptions of what they think is "completing a task." Maybe I need to ask them, calmly, once again, to shut the drawers and cabinets before they leave the kitchen. Undoubtedly I need to slack up on my expectations of them.
Or, maybe they could learn to shut a fecking kitchen cabinet and drawer before they leave the room.
And SO HELP ME if I run into one of those open cabinet doors ONE MORE TIME there really Will be a ghost in my house!