Is there anything better than a nice, yummy, iced coffee on a warm summer morning. The bitterness of the beans, the richness of the cream, sometimes a little sugar or sweetner, it can be a little bit of heaven right in the comfort of your home. It will help open those eyes, and get your morning started off on a caffeinated note, and we all know the power of caffeine!
I'm going to teach you how to make your own iced coffee in six easy steps. It's quite easy, and feel free to pass the tried and true recipe along. It's simple enough, even a novice barista can finish it with ease.
The Six-Step Iced Coffee Method
First, you have to make sure you have the perfect coffee bean for your taste. Do you like a flavored coffee? Go for it!! You like a plain-Jane grind? It's your coffee, go wild!! Let this be your simple pleasure, so however you like it is perfect.
Next, make sure you have a good creamer. Some people like plain 'ol milk or cream. Some prefer a flavor to their condiment. You do you, babe!! Whatever is going to tantalize your tastebuds is what you're going for here. Do what's going to make your day fabulous!
Now, you need to brew your coffee. You can go with whatever method works best for you. You like a percolator? Do it. Is a French press your brewer of choice? I enjoy a good French press now and then. Maybe you brew your coffee using a pod method? That's okay too! There is no wrong method here, that's the beauty of this recipe.
You may have heard that to get the perfect iced coffee, you need to brew your brown nectar of the gods using the double strength method. I find it doesn't really matter. Double strength brewing just gives your coffee a slight bolder flavor. If that's what you prefer, that's fine! If you like it just single brewed, that's okay. Again, it's your drink, your choice.
While your coffee is brewing, pick out your favorite mug. For me, it would be a nice cappuccino mug, nice and wide. Some prefer a mug with a favorite saying, or pretty design. Maybe you would like one that your husband or a friend got you. Use whatever is going to make you smile.
When the coffee is done brewing, pour it in your mug of choice. Set it on the counter so it doesn't burn you right off the bat, maybe on a pretty trivet to brighten your day!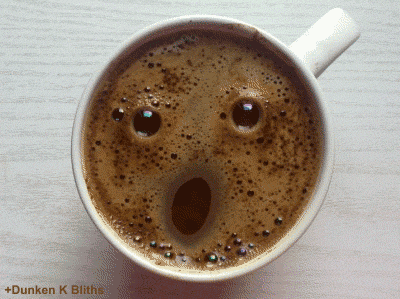 Now, go break up that fight your kids are having. That reminds you, you have to make an appointment with the vet to get Pookie's nails cut. Oh shoot, you forgot Sarah has a birthday party to go to today. Where is that invitation? Hey! Didn't you have an invitation to a block party/barbecue coming up? You need to check on that. Oh! That's the phone. It's your best friend, and she's having a crisis … again. While dealing with that, you see the mailman drive up. You think to yourself, I wonder if my new clothes came in? You had to buy clothes, because coffee spilled on your last shirt.
COFFEE!
You now go back to that pretty mug of goodness on the counter, and it is ice cold. Perfect! Time to grab that big cup and pour it over some cubes.
And there you have it!! The easiest iced caffeine in a cup you'll ever have. Try it today!!