I've always been fascinated with the supernatural world. I can remember as a child pretending to have conversations with angels. In my mind, I figured that since they could see me and hear me, why shouldn't I talk to them even if I couldn't see or hear them.
For whatever reason, my interest in the supernatural world has never really faded. I definitely believe there is more to this world than meets the eye.
But it's one thing to believe it and another thing to have a stranger tell you about your life because he claims that he can see and hear a supernatural being. Which is exactly what happened when I had my fortune read…and honestly? It completely freaked me out.
I Had My Fortune Read And It Completely Freaked Me Out
I've never met a medium before, and initially I didn't even know this gentleman was a medium. I had met him at a nearby art gallery to discuss a workshop he was hosting. As the conversation progressed, I found out he was a medium.
Then he pulled out a deck of strange cards covered in phrases and various angelic images and asked if he could read my cards. At this point, I was curious to see what would happen. Would he give me a vague reading that anyone could make up, or was he the real deal?
He shuffled the deck and handed it to me.
"I want you to shuffle the cards a bit, then breathe on them," he told me.
I went along with his instructions, shuffling the weird cards and breathing on them. I felt slightly stupid as I blew on the deck of cards. Isn't that something you do as a kid for good luck?
He told me that my touch and breath was connecting the cards to my aura. At this point, I pretty much felt awkward and dumb for going along with this. I mean, how was blowing on a deck of cards connecting them to my aura?
But I was too far in to back out of this now. I handed him the deck that supposedly was glowing with my aura. It still just looked like a weird deck of oversized cards to me.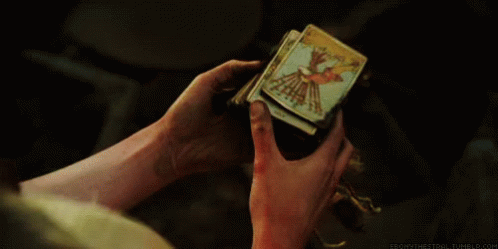 He fanned the cards out and told me to pick one. I did. It had a colorful orb thing on it and a meaningless phrase. I showed him the card.
"Ah, this tells me that you're searching for security in your life right now," he said.
I wasn't sure what to say here, so I nodded. So far, a vague answer. Nothing groundbreaking. Who isn't looking for more security in their life?
"But this is the alpha, so what is the omega?" he said.
What the heck? Alpha and omega? How was the Greek alphabet related to card reading? Then he turned over the deck of cards to reveal the card on the bottom of the deck, and I got what he meant. Alpha and omega, as in beginning and end – the first card and last card.
"You've been questioning your job lately, wondering if it's worth your time," he said reading the new card.
Now my jaw dropped to the floor. I had literally just had a conversation with my husband the night before about my job. I gone into it as a kind of trial when I started it a few months ago. I was trying to decide if I really liked the field I was working in. But so far, I wasn't loving it like I had hoped and was considering looking for opportunities in a different field of work. But this had been a conversation between me and my husband. I hadn't told anyone else. How could he know this?
Then it just got weird.
"Don't give up hope just yet," he said. "You're a great writer. You are going to get a job offer unexpectedly in the next three months, and it will be the job you've been hoping for, a fulfilling job."
I'm pretty sure I was going googly-eyed on him at this point in pure shock. I was about to ask how he could know all this when he said, "You have angels around you."
Okay. Great. Angels. Sure. I was having flashbacks to my childhood.
I tried acting normal, but I mean where do you go from there? Thanks for that prediction and have a great day? I'm still not sure how I managed to get out of there, my head was all jumbled and majorly weirded out. It took a couple days to get my head screwed on straight again.
I feel like I'm testing the cosmos a little to see if a job offer actually appears out of thin air. So far, no job offers, but there's still two months to go.
Back when I started my new job, I had promised myself I would stick with it at least six months before making a decision about changing careers. According to my timeline, those six months end in a few weeks…right about the time that three-month prediction ends.
Coincidence?
I guess I'll just have to wait and see.