This is a sponsored post written by me on behalf of Florida Department of Citrus for IZEA. All opinions are 100% mine.
I'm all about continuing my goal of "starting their year off right". One way I'm focusing on that is by making sure I get my 100% Florida Orange Juice with these awesome Classically Amazing Citrus Recipes.
So many times, I've made resolutions to get healthier and eat better, but I never feel like I get the servings of fruits and vegetables I'm supposed to. But I found these awesome citrus recipe inspirations that incorporate 100% Florida Orange Juice to help me stay on track this year.
25 Classically Amazing Citrus Recipes
Pass me a slice of this Orange-Soaked Bundt Cake. Serve it with a glass of OJ. Mmmm.
Because you can have orang juice anytime–not just for breakfast. Skinny Orange Chicken
For an afternoon pick-me-up, I love this recipe for Strawberry-Orange-Banana Smoothies.
Orange Slush was dreamed-up just to be in my glass on a hot day.
Everything for brunch should be as simple as this Easy Brunch Punch.
This Sunshine Smoothie made my son so happy he asked for seconds–every day for a week!
Orange Creamsicles are a great way to get little kiddos to get their fruit serving.
With Orange Juice Cake, you just can't go wrong.
This recipe for the Best Pork Tenderloins is so yummy, I can't even begin.
I'd eat this Orange Juice Smoothie pretty much any time of day, like now.
Stop the train! 3-Ingredient Creamsicle Cake. 3-ingredient!
You have to try this Orange-Carrot Ginger Juice. So. Good.
I like the occasional Mai-Tai with friends. In the backyard. With BBQ.
Glazed Orange Pound Cake. Oh, boy. That's a good cake.
OJ for breakfast? With Orange-Kissed Pancakes? Yeah.
Speaking of breakfast, brunch, or just because I like them, I'll have a Mimosa.
For a recipe that rocks my socks, I go straight to this Orange Push-up Smoothie.
But for a twist, I like a little Raspberry Sunrise Smoothie.
Shirley Temple Popsicles are yummy, easy and have all that fruit! Awesome.
This Strawberry-Orange Sorbet is a great way to sneak those vitamins in your diet.
Oh, I love a Pineapple-Orange Spritzer.
For those of you who love everything yummy, try this Mock Orange Julius. 'S good.
Or, you can make a few Mock Dream-Machine Smoothies for the kids and really rock the house.
I had this power-packed Creamy Orange Wake-up Smoothie for lunch–yum-ee.
My husband loves this Electrolyte-Booster Drink. I call it the "mowing-the-lawn-bribe."
So many fun ways to drink-in the natural sustained energy and experience the #AmazingInside 100% Florida Orange Juice.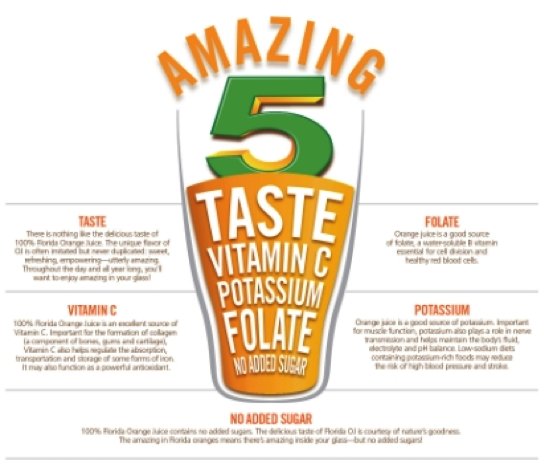 And, because I just can't get enough 100% Florida Orange Juice, I'll be at the Twitter Party on Wednesday. You can also join the #AmazingInside Twitter Party! Party Details:
Dates: 3/4/2015
Time: 1:00pm-2:00pm EST
Host/CoHost: @ModernDayMoms and @BrettBMartin
Prizes:

(1) $200 Visa Grand Prize + FDOC swag
(1) $75 Visa Gift card + FDOC swag
(2) $50 Visa Gift cards + FDOC swag
(6) $15 Visa Gift Cards + FDOC swag

Hashtag: #AmazingInside
Must attend party to win, winners announced throughout party.
If this is your first twitter party, click here for some tips and hints that'll help you maximize the fun. See you there!