There are a lot of fall birthdays in our family, and that's really cool, because I love birthdays. Especially my own. But it's not until February. Regardless, when the fall birthdays start to roll in, I can't help but think of my birthday, and how awesome it. Is. Going. To. Be.
First, I'm going to be 40 on my next birthday, and that has me pretty stoked. Stoked that I made it this far, and equally stoked that 40 isn't nearly as old as I thought it was when I was say ten. Speaking of when I was 10 – and while still lingering over my birthday happies, I thought of a few things I would like to tell my 10 year old self.
3 Things I Would Tell 10 Year Old Me
Don't Stop Dressing Like Cyndi Lauper
Cyndi Lauper was and is cool freaking beans. And I was 10 in 1987 so… I wanted to be Cyndi Lauper. I used to cut the feet of my tights and wear them as leggings ( way before leggings were cool ) and I would layer skirts, and sweatshirts inside out.. and I even acquired a pair of funky bowling shoes that I wore as casuals – because bowling is not really my thing.
At any rate – instead of falling victim to the preppy kids in my class who had esprit jeans, and button collared shirts, I should have LET MY TRUE COLORS SHINE THROUGH. Complete, with mad mad hair.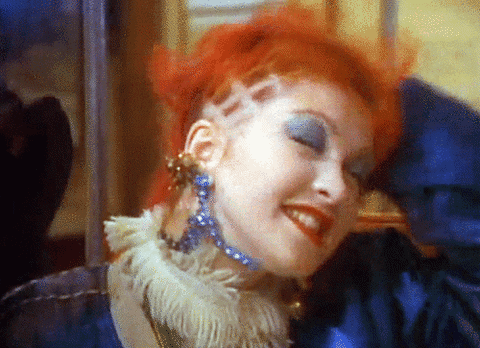 Dance Like Everyone IS Watching, But You Don't Give A Toot
I think a lot of people fall into that era of social paranoia, where you get shy, and feel like everyone is talking about you as soon as you leave the room. No? Just me? Oh, well, than… Ahem. Like I was saying, I went into that awkward stage where I not only began to second guess my clothing style, I also began to question all that went with it. I danced funny, talked funny, and felt all together inadequate. I couldn't compete with the Jones' in my class, and I would like to tell myself to not even bother.
Don't do it 10 year old me, wear your k-mart clothes, and go ahead, climb trees, ride that BMX, and just freaking have fun!
Be A Little Nicer to All People
I have always been a bit hot tempered, and I didn't really grow out of it until about 35. I could have been a lot softer with my friends, and a lot more understanding to the people who didn't seem to 'get' me.
So, 10 year old me, be nice, be kind and always use your manners.
Sorry this is fuzzy! It was too sweet not to share.
And a few of bonus tells (from the editor), just 'cause I know the future:
Charles is Definitely Not In Charge
And in fact he's kind of a jerk. So it's okay if you want to crush on someone else…
Keep ALL Your Toys!
The 80's nostalgia market is going to be HUGE and you WILL be a millionaire as long as you never open those toys.
The Goonies Will Never Get Old
So feel free to watch it as much as you want, 'cause it still rocks. Plus, bonus, Cyndi Lauper is in it (sort of…)!!